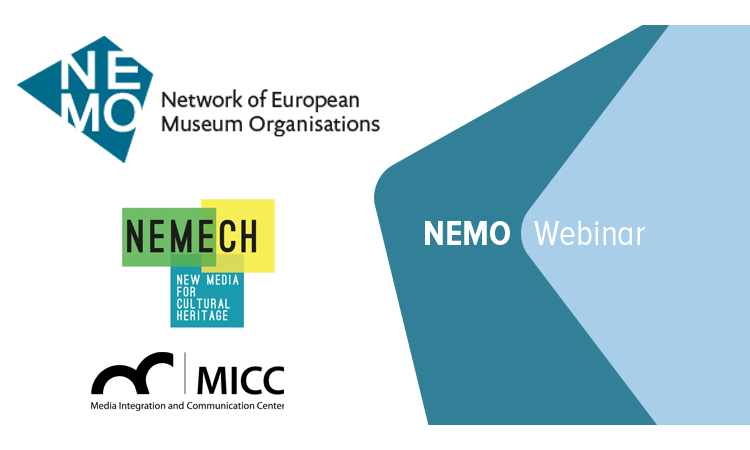 NEMO -The Network of European Museum Organisations – offers webinars in cooperation with MICC – Media Integration and Communication Centre and NEMECH – New Media for Cultural Heritage. Webinars are in English or French facilitated by different museum experts in Europe about diverse topics in the museum field through webinars (online-seminars) to museum professionals in Europe and beyond.
http://www.ne-mo.org/our-actions/actions-for-museum-professionals/webinars.html
2016
New digital tools and techniques for Cultural Heritage and Museums was delivered on 1 June 2016 facilitated by Prof. Alberto Del Bimbo, Dr. Andrea Ferracani and Dr. Daniele Pezzatini (MICC and NEMECH). The webinar introduced different technologies that can be used in museums and discussed their abilities and functions, as well as financial aspects and the experiences the facilitators made in their field of work at the University of Florence, NEMECH – New Media for Cultural Heritage and MICC – Media Integration and Communication Center.


La place des émotions dans les musées: le point de vue du scénographe was delivered on 28 September 2016 facilitated by Arch. Lorenzo Greppi. Target group: Museum professionals in general, education staff and curators, exhibition makers and designers


Museums as intercultural spaces: exploring new paradigms – In what ways can museums serve as places for intercultural dialogue? To which extend can they influence intercultural dialogue? What are useful examples or case studies? How can museums benchmark diversity management? – was delivered on 30 November 2016 facilitated by  Simona Bodo. Independent researcher and consultant, provided an overview of existing, more "traditional" responses of museums to the growing diversity of their audiences. Following the introduction, she dealt with experimental strands of practice that are questioning the notion of "intercultural work" in museums and concluded with the introduction of a benchmarking tool for diversity management in cultural institutions, which she helped develop in the framework of the project "Brokering Migrants' Cultural Participation", funded by the DG Home Affairs of the European Commission
2017
The great revolution of European museums – Which museums were the most influential in the European scene in the last 20 years? Which contributed to change professional practices, people's perceptions and visitors' expectations and experiences? –  was delivered on 5 April 2017 facilitated by Prof Massimo Negri. The director of the European Museum Academy has been a juror for different museum prizes and awards at European level for more than 40 years. Drawing from his experience and the findings disclosed in his most recent book The great revolution of European museums he shared examples of innovative practices, new trends and especially approaches to museums, marketing and the new challenges.